Line 56:
Line 56:





If an editor has any questions regarding the placement of a speed limit change or feels discussion is needed regarding an exception to these guidelines, please reach out to [[Illinois#Area managers|area managers]].

If an editor has any questions regarding the placement of a speed limit change or feels discussion is needed regarding an exception to these guidelines, please reach out to [[Illinois#Area managers|area managers]].






== Discussion ==

== Discussion ==

<!-- This proposal is still being drafted prior to open discussion. -->

<!-- This proposal is still being drafted prior to open discussion. -->

This proposal is under discussion on the forums, at the following link: https://www.waze.com/forum/viewtopic.php?f=253&t=190175

This proposal is under discussion on the forums, at the following link: https://www.waze.com/forum/viewtopic.php?f=253&t=190175
---
Revision as of 01:53, 28 May 2016
Overview
The goal of this page update is to incorporate guidance relevant to maintaining speed limits into the Illinois wiki page.
This information is under consideration for the Illinois state wiki.
It should not be considered official guidance.
Content
Speed limits
Illinois follows the general speed limit guidelines for the USA with this local guidance.
In addition to posted speed limits, Illinois has several default speed limits that are applicable in different circumstances. These are defined in Illinois Compiled Statutes 625 ILCS 5/Ch. 11 Art. VI (Speed Restrictions) with supporting information in 625 ILCS 5/Ch. 1 (Definitions). The maximum speed limits to be used are for private passenger vehicles.
The default speed limits that should be added to the Waze map in Illinois are:
Interstates and tollways — 70 mph.
Highways with four lanes, having a separation between roadways moving in opposite directions — 65 mph.
Other highways, roads and streets (non-urban areas) — 55 mph.
Other highways, roads and streets (urban districts) — 30 mph.
The counties of Cook, DuPage, Kane, Lake, Madison, McHenry, St. Clair, and Will, may set maximum speed limits lower than the state defaults.
An urban district is "The territory contiguous to and including any street which is built up with structures devoted to business, industry or dwelling houses situated at intervals of less than 100 feet for a distance of a quarter of a mile or more." [625 ILCS 5/1-214]
Illinois default speed limits not currently applicable and not to be added to the Waze map:
Alleys — 15 mph.
School Zones — 20 mph (on school days between 7 a.m. and 4 p.m. when children
are present and signs are posted).
School and park speed limits
These special zones are not added to the map. At the present time there is no way to support the time- and condition-based aspects of speed zones at schools and parks. The speed limit before entering one of these zones should be carried through, in the direction of travel, to the point the special speed zone ends.
Work zone speed limits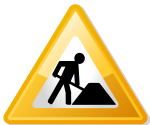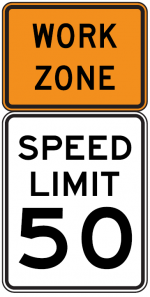 A work zone (WZ) may have a lower advisory speed limit (SL) posted in black on orange

, or a regulatory speed limit posted in black on white with an orange "Work Zone" banner across the top

.
We only consider the regulatory signs, and never map advisory speed limits.
Only add Work Zone speed limits (WZSL) if they are anticipated to persist more six months.
For projects expected to last less than six months:

Use the regular underlying SL on affected segments.
Document the WZSL as a [CONSTRUCTION] UR with the keyword WZ: mph included in the text. Also include area under construction and expected completion date.

For projects scheduled to continue for more than six months:

Document the construction in a [CONSTRUCTION] UR, including: Area/segments involved, expected completion date, original speed limit using SL: mph, and work zone speed limit using WZ: mph (example: SL: 45 / WZ: 35).
Update affected segments with posted WZSL.

Projects of shorter duration may be added as well, IF the editor has access to frequent status updates on the project, and is willing to monitor and adjust as soon as the SL is restored.
Where speed limits change
In Illinois, speed limit changes are mapped at the point nearest the posted speed limit sign with these considerations:
Changes should be mapped at or before the sign in the direction of travel..
Changes should be mapped at definite changes in roadway characteristics: urban boundaries, intersecting roadways, or driveways, etc.
Changes should not be mapped less than 200 feet from an existing junction. This can have a negative impact on turn delay calculations.
If an editor has any questions regarding the placement of a speed limit change or feels discussion is needed regarding an exception to these guidelines, please reach out to area managers.
Municipal U-Turn Ordinances
The following municipalities or counties have ordinances that vary from State law (ILCS).
Changes or additional ordinances can be submitted using Illinois Speed Ordinance Submission form.