Dear All Indonesian Map Editor
Sering saya menemukan beberapa jalan di Indonesia yang telah diedit oleh para editor yang tidak sempurna alias hanya setengah matang saja. Padahal posisi serta tipe jalan tersebut sudah sangat bagus.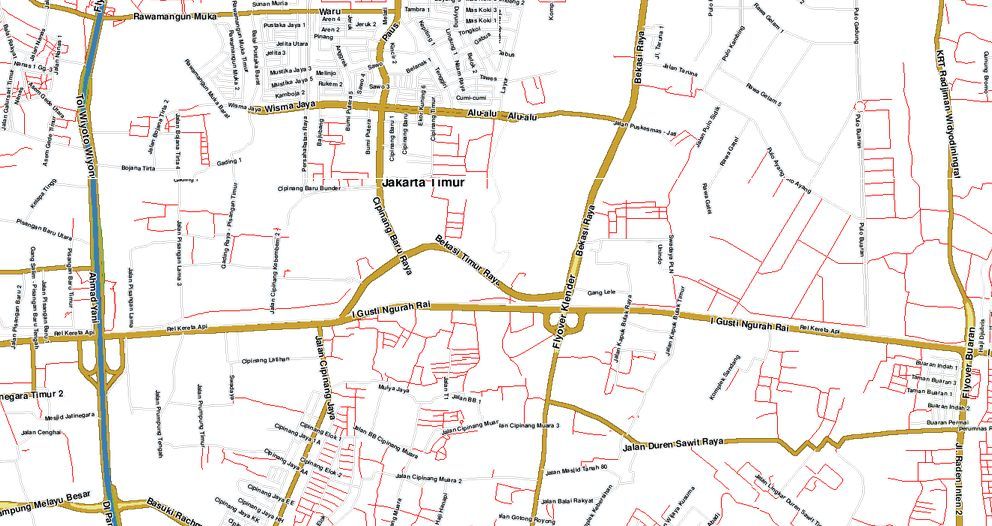 Beberapa jalan pada WME masih terlihat berwarna merah (merah yang dimaksud bukan Major Highway) serta tidak terkondisi 'turn allowed' nya (panah merah & panah hijau).
Jalan berwarna merah (baik hasil pave road dari gadget client ataupun dibuat di WME) tersebut tetap akan muncul pada
Gadget Client
anda tetapi
tidak bisa
dipergunakan untuk Routing.
Sering juga saya temukan juga beberapa jalan yang sudah terbentuk City dan Streetnya (terisi maupun tercentang None) tetapi hampir semua turn allowed nya berpanah merah, bukan karena dikondisikan seperti itu tetapi karena setelah terkoneksi satu sama lain sang editor lupa mengatur arahnya.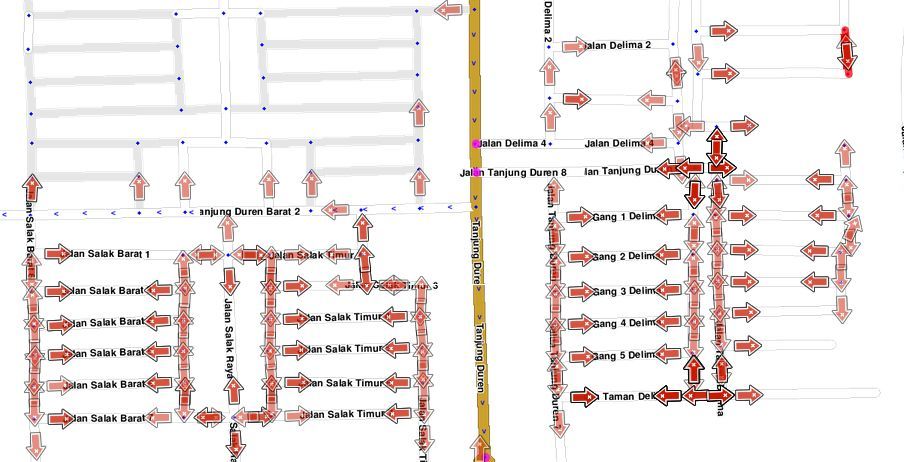 Secara umum untuk titik persimpangan (junction) anda bisa menekan tombol 'W' saja diawal lalu anda edit arahnya kemudian. Default awal setiap junction adalah Panah Merah (turn not allowed) sama halnya seperti menekan tombol 'Q' pada persimpangan tersebut.
Jika pengaturan arah ini tidak dilakukan tidak akan sangat berbahaya karena bisa mengganggu sistem routing. Apalagi jika berkaitan dengan beberapa jalan utama yang cukup vital dan sering dipergunakan routing oleh para wazers.
Agar jalan bisa terkoneksi dengan baik serta dapat dipergunakan, Para editor harus memahami ini terlebih dahulu sebagai panduan :
Turn Restriction:
http://www.waze.com/wiki/index.php/Map_ ... d_turns.29
Junction Style Guide:
http://www.waze.com/wiki/index.php/Junction_Style_Guide
Selesai proses pengaturan ruas jalan , para editor
WAJIB
mengisi kolom City dan Street atau mencentang
None
pada keduanya (Jika ragu-ragu ataupun tidak tahu sama sekali), setelah itu WAJIB pula menekan tombol
APPLY
(Jika tombol ini tidak di klik walaupun kolom city atau street telah diisi maka akan kembali ke default awal alias kosong dan jalanpun kembali berwarna merah), baru jalan tersebut bisa digunakan untuk routing, jika tidak, walaupun jalan tersebut muncul di Gadget dan dapat dilewati, tapi tidak bisa digunakan sebagai Routing dalam bernavigasi.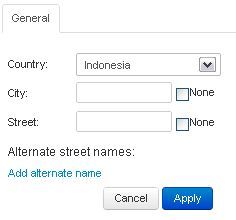 Jika jalan tersebut telah berubah warna menjadi Biru, Kuning, Coklat muda, Putih, Hijau, Abu-abu ataupun Merah (Major Highway) bisa dikatakan anda telah sukses mengaplikasikan -hanya- perubahan City & Street pada jalan tersebut.
Secara sederhana urutan/proses dalam mengedit ruas jalan, baik ruas tersebut dibuat dari awal atau hasil dari pave road adalah:
1. Sesuaikan ruas jalan

(bisa mempergunakan Aerial Images atau GPS Point), jika node/titik pada ruas terlalu banyak dan agak merepotkan, bisa dihilangkan dengan cara: Posisikan Cursor Mouse pada Node tersebut dan tekan tombol "d".

2. Koneksikan antar ruas jalan.

*Periksa level antar jalan tersebut (usahakan margin antar ruas jalan tidak lebih dari 1 level). Perbedaan level antar jalan terkadang bisa menyusahkan dalam pengkoneksian. Default new road adalah level 0. Pengaturan level pada Simpang Susun perlu ketelitian agar tidak bermasalah pada routing.

*Hindari

Looping Effect

saat menyambung antar ruas jalan. Minimal jalan yang akan dipakai routing adalah 2 titik/junction (termasuk Roundabout)

*Jika bertemu dengan ruas jalan dengan keadaan terkunci oleh para editor yang levelnya lebih tinggi bisa request unlock di

thread ini.

3. Atur Direction dan Road Type nya.

4. Isi kolom General

(CIty & Street) jangan lupa tekan tombol

Apply.

5. Atur Turn Restrictionnya

<- Paling Penting!
Voila! Jalan buatan atau hasil editan anda sudah dapat dipakai orang banyak
Tambahan:
Sering terjadi kondisi jalan terjadi berakhir tanpa ada jalan lain untuk dikoneksikan, seperti jalan buntu, jalan yang berakhir dengan sungai, tanah kosong dll. Kondisi ruas jalan seperti ini dikenal dengan istilah
Cul de Sacs
.Jika jalan tanpa sambungan ini tidak ditutup, maka bisa bisa diibaratkan sebagai keran bocor. Routing dari jalan tersebut menuju ke jalan lain bisa dilakukan, tetapi jika dari jalan lain menuju jalan tersebut cenderung gagal.
Secara umum hal ini sebagai biang keladi sering terjadinya situasi gagal routing, padahal rute yang akan dilalui sudah sempurna.
In order for the Waze Application to properly route from a location on a cul-de-sac or dead-end road, the end of the last segment must have an end-node. Without this end-node, Waze will give the instruction Proceed to Highlighted Route
Penutupan jalan ini bisa dilakukan dengan 2 cara.
1. Jika hanya satu ruas, buat dan sambungkan jalan baru secara acak (tombol 'I') ke ruas cul de sacs tersebut. Setelah tersambung klik jalan baru (mentah, tanpa di save) tersebut, tekan 'del' dan Save. Anda akan menemukan node/titik baru pada akhir jalan tersebut.
2. Jika cul de sac tersebut cukup banyak, setelah semua ruas tersambung, klik 'Save'. Lalu seleksi satu-satu (bisa dengan menekan tombol 'M), klik keranjang sampah di kanan atas (Jila seleksi lebih dari satu, tombol 'Delete' tidak akan berfungsi), Klik notifikasi / confirm untuk 'OK to Delete' dan Save. :p
contoh:
Pembentukan ruas sementara (penutupan cul de sac) secara acak:
Setelah jalan tersebut di delete: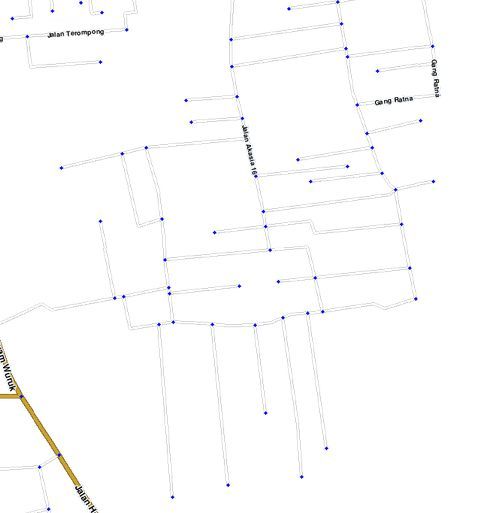 ... dan yang tak kalah penting:
Jangan pernah memberikan Roundabout pada jalan Cul de Sac. Jalan seperti ini sering ditemui pada beberapa perumahan.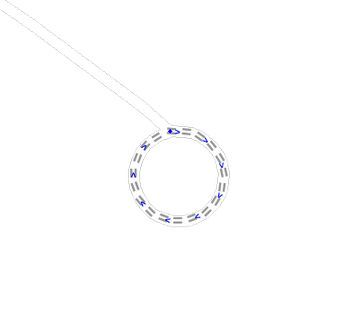 Situasi seperti ini lebih parah dibandingkan Cul de Sac yang tidak tertutup. karena baik routing keluar dari/atau menuju roundabout tersebut sudah pasti gagal, karena Looping Effect yang dihasilkannya.
Jika anda menemukan roundabout dalam keadaan terkoneksi seperti ini:
1. Segera hapus roundabout tersebut, Jika telah terkoneksi, biasanya kondisi cul-de-sac sudah langsung dalam keadaan tertutup.
2 Jika terpaksa sekali dan fungsinya hanya sebatas kosmetik alias tidak untuk routing; contoh:
https://world.waze.com/editor/?lon=106. ... FFTFTTTTFT
, Atur arah (direction) roundabout tersebut pada posisi 'Unknown Direction'. saja.
Secara garis besar tulisan saya ini berdasarkan pengalaman saya dalam "merenovasi" peta waze di Indonesia berdasarkan:
Waze Guide: Creating and Editing street segments
. Disertai dengan sedikit improvisasi saat editing :p
Thanks and Happy Editing!
trev
ps:
Beberapa attachment pic hanya sebagai contoh saja, bukan mendiskreditkan beberapa editor tertentu. Peta Waze di Indonesia tidak bisa dibuat secara individu tapi dibutuhkan kerjasama / team work para editor, baik kenal maupun tidak, baru belajar maupun yang tergolong cukup senior. Jika ada kesalahan akan saya koreksi dan jika kekurangan/informasi yang kurang lengkap silakan ditambahkan.