Tänkte se om vi kunde tillsammans komma fram till en definition av Waze vägar fast för våra svenska format.
Enligt Wikin:
Freeway




These are interstates (such as I-90), highways, freeways and expressways that are multi-lane, divided roads with no stops (no traffic lights, exit and entrance from/to the road is through ramps)

Major Highway

A big highway, usually 3+ lanes, with minimal stops – mostly exits and interchanges, bt possibly with some intersections and junctions

Minor Highways


Usually a narrower highway, 2 lanes or less, that has stops or traffic lights at almost every intersection, but is still a highway (minor state route or highways, or minor US route or highway)

Ramps

all highway exits and entrances should be labeled as ramps.

Primary Street




Other streets or BLVD w/ stoplights that are relatively used (such as Middlefield Rd. in Menlo Park or Park blvd. in Oakland)

Street

all other regular streets
Så i Sverige skulle detta bli något i stil med:
Freeway = Motorväg
Större Europavägar med minst 2 filer i varje riktning i stil med E4, E6 osv.
Om vägen delas upp i 2 enkelriktade vägar bör varje väg döpas med tillägget för riktning, exempelvis E4 N eller E22 S
Major Highway = Motortrafikled (2+1 vägar)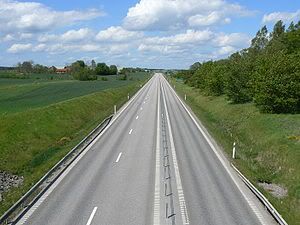 Mindre motorvägar och Motortrafikleder. har för mig att de flesta har byggts om till 2+1 vägar på sistone.
Om vägen delas upp i 2 enkelriktade vägar bör varje väg döpas med tillägget för riktning på liknande sätt som Motorvägar enligt ovan.
Minor Highway = Riksväg
Övriga större vägar, asfalterade och med markerad mittlinje och som dessutom har eget vägnummer t.ex. RV23 eller enbart 23
def. enligt wikipedia:
En riksväg kan vara allt från en motorväg till en smal vägbana med tvära kurvor och mötande trafik.
Ramps = Påfartsled
Av och påfarter till Motorvägar:
Bör för övrigt märkas med rätt avfartsnummer enligt vägvärkets tilldelning på följande vägar:
E4
E6
E18
E20
E22
E65
RV40
RV75
Primary Street = Esplanader, Boulevarder och huvudled inom tätort.
En bred gata vanligtvis med (minst) två körbanor åtskilda av en trädplantering
alternativt huvudled
inom tätort.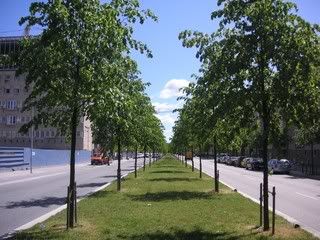 Street = Gator
Övriga gator inom eller utanför ett samhälle, vanligtvis avdelade med vägmarkeringar eller alternativt grusvägar tills detta kommer som ett eget alternativ
4x4 Road = Grusvägar
Grusvägar
Parking lot road = parkeringsväg
Mindre gata inom parkeringsområde eller i nära anslutning till detsamma med sänkt hastighet.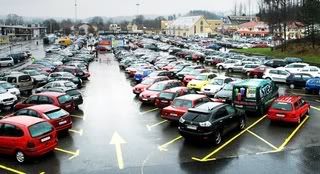 Så, vad tycker ni om fördelningen?
[edit]
Uppdaterade definitionerna.