Too impatient to wait until after midnight to see the full set of results from today, so here's a sneak preview... Same start and endpoints as yesterday.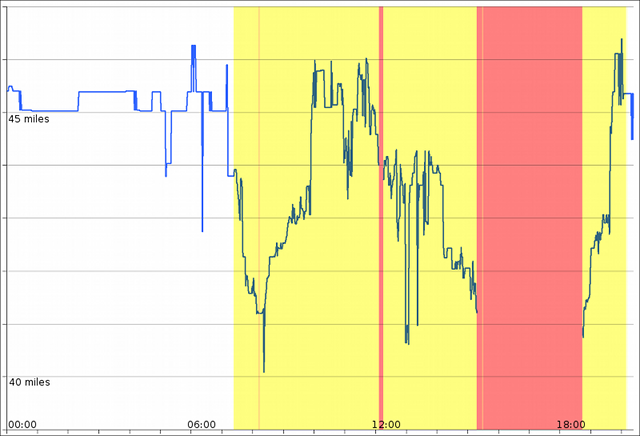 As with yesterdays testing, the shortest route always reached the intended endpoint (where Livemap returned routes), and its distance only varied slightly every now and again, so I haven't bothered plotting that one this time. The above plot concentrates on the quickest route results where, as we saw yesterday, things tend to go awry.
Once again, the yellow regions of the plot shows where the route fell short of the endpoint. Unlike yesterday, we now also have data to show where Livemap failed to return any results, these are the red regions. There's one very slender red region just after 08:00 (which pretty much coincides with when the logging fell over yesterday...), then a slightly wider region around noon, and then from just after 15:00 through to almost 19:00 the routing engine was almost entirely incapable of returning any routes - there's just that very brief period around 15:30 where a single incomplete route is generated... Once the routes start to be reliably generated again just before 19:00, they remain incomplete until just after 20:00 where they seem to return to normality again.