This article discusses double-turn U-turns. For standard one or two segment U-turns, adjust the
junction arrows
.
| | |
| --- | --- |
| | As of December 2021penalizing some double-left and double-right turns has been disabled in the United States. The routing server will no longer automatically avoid double-left turns. To prevent u-turns on divided roads, use a Junction box. |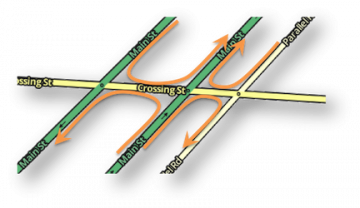 Note: The road types displayed in the images might not match the standards for where you edit. Please check your local wiki and with local experts to learn the correct road type to use for median segments in your area.
Historic U-turn routing prevention
The Waze routing algorithm previously had a method of penalizing some double-left and double-right turns. This used to prevent U-turns at H or # style intersections on divided and parallel roads. Expand the section below to learn how this used to work.